August 24th, 2007 by ariana
So I can finally reveal the ultimate reason almost nothing has gotten done in past 10 days – Jeff's been away on a business trip! (I was hesitant to broadcast over the world wide web that I was home alone or I would have mentioned it earlier.)
So now that we've set a date for our housewarming party of September 8th, we have exactly two weekends to get the house in shape. This may be a little ambitious because, as you may have already guessed , Jeff is by far the more industrious one. Given that he's been in China for the last 11 days, he'll be totally jet lagged at least until labor day weekend. He gets super duper grouchy when gets back from Asia to the point where I've told him he needs at least 5 days of quarantine before he's fit for human companionship. So as you can tell, I have a FUN weekend ahead of me!
You already know about the plans for the half bath downstairs:
1) new mirror
2) new pedestal sink
3) new paint color with stencil decoration
4) new light fixture
#1 is on its way, I'm at a total loss as to #4, and as for #3, here is a bad photo of my second attempt at making a stencil:
Meh. Its ok.
As for #1, I was thinking perhaps this: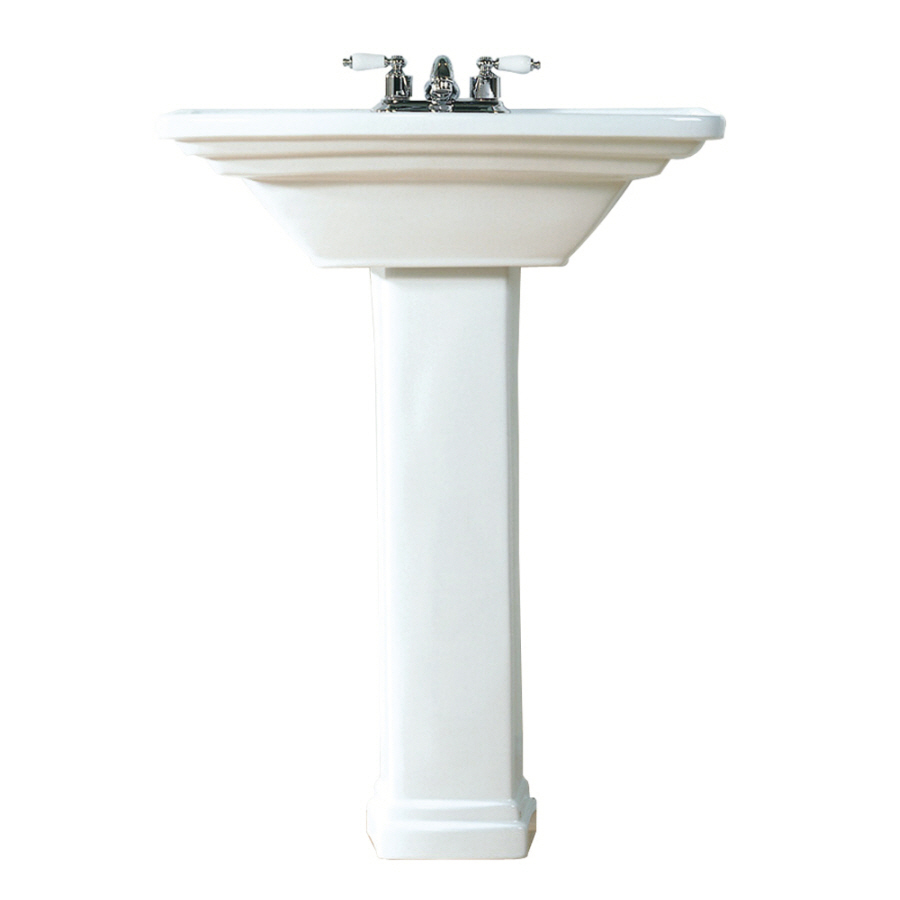 Its only $88 from Lowes, can that be possible?? And has anyone installed a pedestal sink before? I'm not sure we're going to be able to DIY this without flooding out the house or something.
That is our main project before the party, but not the only one…
The rest of the house isn't "finished" yet but its not "embarrassing" with the huge exception of the state of the upstairs (and only) full bath – which I usually avoid posting about all together.
Well, I did post once before about it sort of in passing.. but I usually try to avoid thinking about it entirely. Now with the prospect of housewarming looming large, its time to at least make some cosmetic improvements. I mean we'd love to change the sink before the party (and just in general b/c the faucets leak!) but I'm afraid the tiles underneath would then need patching/replacing and that's just to big a can of worms to open at this point. So, my plan is to strip the remaining wallpaper and paint the walls white. I thought about trying color here, but the tile is navy and white (not black and white like it looks in the pictures) and I'm hoping the white will give the illusion of more space.
Lest you think I'm making a big deal over nothing:
See that metal thingy sticking up out of the floor next to the shower? Its the bath tub drain!
Bath tub drain.. it says "waste" on it! (This was very perplexing to the HGTV couple)
Kiddie Sink!
Yes, shocking isn't it? Now before you ask yourself why in god's name we haven't changed that sink yet, keep in mind that the width of the space there is 23″ or so. Trust me, there's not a whole lot to choose from in that size.
The decorating scheme (if you can call it that) seems to have been white & navy blue with (rusted) bronze accents. The navy and white will stay for now, but I think it definitely needs chrome hardware including a new sliver-toned light fixture. The good news is that given the wiring of the current fixture I COULD have a chandelier in here. The bad news is I think the ceiling is much too low for it particularly for Jeff who is over 6′.
So, as you can see, we have our work cut out for us. Hopefully I'll post back Monday with some actual progress. Have a wonderful weekend!