July 5th, 2007 by ariana
Thank you for all of your opinions about the items we were considering buying before last weekend. I thought I should post an update since so many of you were kind enough to post your advice!
1) For some reason we never made it to see the grill…too much chaos with the tar incident.
2) Someone else beat me to the adorable yellow armoire…I'm still really sad about that one :(
3) The dining room set with hutch: In a rare moment of restraint and logic, I realized that I shouldn't buy anything that I'm not totally and completely in love with, no matter how much of a steal the price may be. The fact that I went to see the set and didn't swoon over it pretty much meant that it wasn't speaking to me, or at least not loudly enough to demand that I listen so I resolved to keep looking.
I decided to expand my search from craigslist to ebay using the local search within xxx miles feature so that I could find something we could pick up and avoid paying a fortune in shipping fees…
And I'm so glad I did because LOOK at what I just bought from a somewhat-local ebay seller that has some really amazing cottage style antiques at great prices!
Not the best picture, but you get the idea.. its oh so cute and scrolly and it was a total bargain at $195. I think my Art Deco inspired wedding china will look quite lovely displayed in there: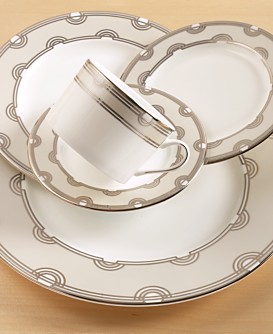 I had been so completely caught up in obsessively checking craigslist for bargains that I had entirely forgotten about the ebay local search within xxx miles feature. But once I started digging I turned up some really great ebay stores and sellers that I'll keep my eye on for some of the other pieces I still need.
Obviously your local searches will turn up your own hidden treasures, but here are two that I stumbled upon that may interest those of you who share my love for cottage/french country style antiques:
Red Barn Estates
Unless you live somewhere in the vicinity of Midwest City, OK the shipping prices (approx. $250 via greyhound) may be too prohibitive but its really worth looking at Red Barn Estate's offerings even if its just for inspiration.
They use the most lovely paint colors such as the gorgeous sea-foam green of this armoire I have been drooling over for our hall:
and this vanity I have been eying for the guest room:
Kitch & Kaboodle
Another interesting and closer-to-home (well, for us anyway!) seller is "Kitch & Kaboodle" who operate out of Philadelphia and a Warehouse in NJ about an hour west of NYC. "Interesting" in this case is a slight euphemism for "confusing" because its a little bit hard to wade through the text and figure out exactly what they do..
As best as I can tell you buy an antique piece from them and they paint it your choice of colors.. you have to choose the piece from a page where they list items cataloged and available soon. It's a bit hard to wade through, but worth it because their after pictures of previously customized items are just amazing, like this 1920's vanity for $350:
A piece like that from anthropologie or brocade home would sell for well over $1000!
Anyway, I hope my China Cabinet is as cute in person as it seems like it will be from the pictures because, like most things purchased on ebay, its not returnable!